​On 24 June 2019, the Malta Development Bank (MDB) signed a EUR 45 million global loan agreement with the KfW Group. MDB will use the funds to promote SME (Small and Medium-sized Enterprises) finance in Malta with special emphasis on SME investments. SMEs in Malta will benefit from the favourable financing conditions offered by KfW and MDB. This facility aims to address the market gap in access to finance for SMEs. MDB will mobilise the funding by direct loan agreements with SMEs in conjunction with domestic banks that will be participating in a new scheme that the MDB plans to launch soon, comprising co-financing and a partial guarantee. This loan agreement will contribute to deepen and extend the existing business relationship between KfW and MDB which started during the bank´s incorporation process. The global loan with KfW is MDB´s first funding transaction. KfW was set up in 1948 by the German Government and is one of the world's leading promotional banks with assets of almost €500 billion.
Dr Ingrid Hengster, member of KfW's Executive Board says: "Malta's economy has grown dynamically clearly above EU average growth rates in the past few years, not least due to the important role of the country's small and medium-sized companies. Their share in Malta's business economy value added is about 80%, thus much higher than in most of the other EU countries. I'm delighted to deepen the partnership between KfW and MDB with this global loan, and I'm confident that it will contribute to strengthen both the country's prospering economy and the German-Maltese business relationships."
Prof. Josef Bonnici, Chairman of Malta Development Bank noted that "SMEs are one of the top priorities of the MDB as they ensure growth, innovation, jobs and the long-term competitiveness of the Maltese economy. This global loan will enable MDB to fulfil its mandate by providing the necessary support to SMEs in Malta to overcome the persistent difficulties in financing new investment. We are convinced that this bilateral operation provides an excellent basis for further collaboration between KfW and MDB in the future."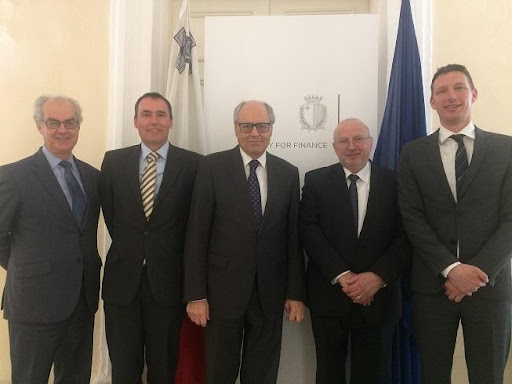 ---
Il-Bank Malti ta' Żvilupp u il-KfW Grupp jistabilixxu kooperazzjoni kummerċjali għall-finanzjament tal-SMEs f'Malta
Fl- 24 ta' Ġunju 2019, il-Bank Malti ta' Żvilupp (MDB) iffirma ftehim ta' self globali mal-KfW Grupp. L- MDB se juża dawn il-fondi sabiex jippromovi u jiffaċilita l-aċċess għall-finanzjament ta' investiment minn intrapriżi ta' daqs żgħir u medju (SMEs). SMEs f'Malta se jibbenefikaw minn kundizzjonijiet finanzjarji favorevoli li qed joffru il-KfW u l-MDB. L-oġġettiv ta' din il-faċilita' hu li tindirizza nuqqasijiet fis-suq tas-self lill-SMEs. L-MDB se jimmobiliżża dawn il-fondi f'self dirett lil SMEs b'kollaborazzjoni ma' banek kummerċjali li se jkunu qed jipparteċipaw fi skema li l-MDB ser ikun qiegħed iniedi fix-xhur li ġejjin, u li se tinvolvi finanzjament konġunt mal-banek kif ukoll garanzija parzjali. B'dan il-ftehim ta' self, l-MDB u l-KfW qed ikomplu jibnu fuq relazzjoni kummerċjali li bdiet bil-ħidma inizzjali għat-twaqqif tal-MDB. Il-KfW huwa bank li ġie mwaqqaf fl-1948 mill-Gvern Germaniż u huwa fost l-akbar banek promozzjonali fid-dinja b'assi li jammontaw għal kważi €500 biljun.
Dr Ingrid Hengster, membru tal-Bord Eżekuttiv tal-KfW tgħid: "Fl-aħħar snin, l-ekonomija Maltija kibret b'mod dinamiku u b'rata ogħla minn dik tal-medja tal-EU, u dan b'mod partikolari bil-kontribut tal-SMEs. L-SMEs f'Malta jiġġeneraw madwar 80% tal-valur miżjud tal-ekonomija kummerċjali, rata ħafna iktar għolja minn dik ta' pajjiżi oħra. Huwa b'sodisfazzjon li b'dan il-ftehim, ir-relazzjoni bejn il-KfW u l-MDB se tkompli tissaħħaħ, u ninsab kunfidenti li se tkun ta' kontribut għat-tisħiħ kemm tal-ekonomija Maltija kif ukoll tar-relazzjoni kummerċjali bejn Malta u l-Ġermanja.
Prof. Josef Bonnici, Chairman tal-MDB sostna li "l-SMEs huma priorita' għall-MDB għaliex jassikuraw tkabbir, innovazzjoni, impjiegi u kompetittivita' tal-ekonomija Maltija. Dan il-ftehim ta' self se jkun strumentali fit-twettiq tal-mandat tal-MDB billi jipprovdi is-sostenn neċessarju lill-SMEs f'Malta biex jgħelbu l-isfidi li jaffaċċjaw meta jiġu biex jiffinanzjaw l-investiment tagħhom. Ninsabu konvinti li dan il-ftehim se jkun bażi eċċellenti għal aktar kollaborazzjoni bejn il-KfW u l-MDB fiż-żmien li ġej.